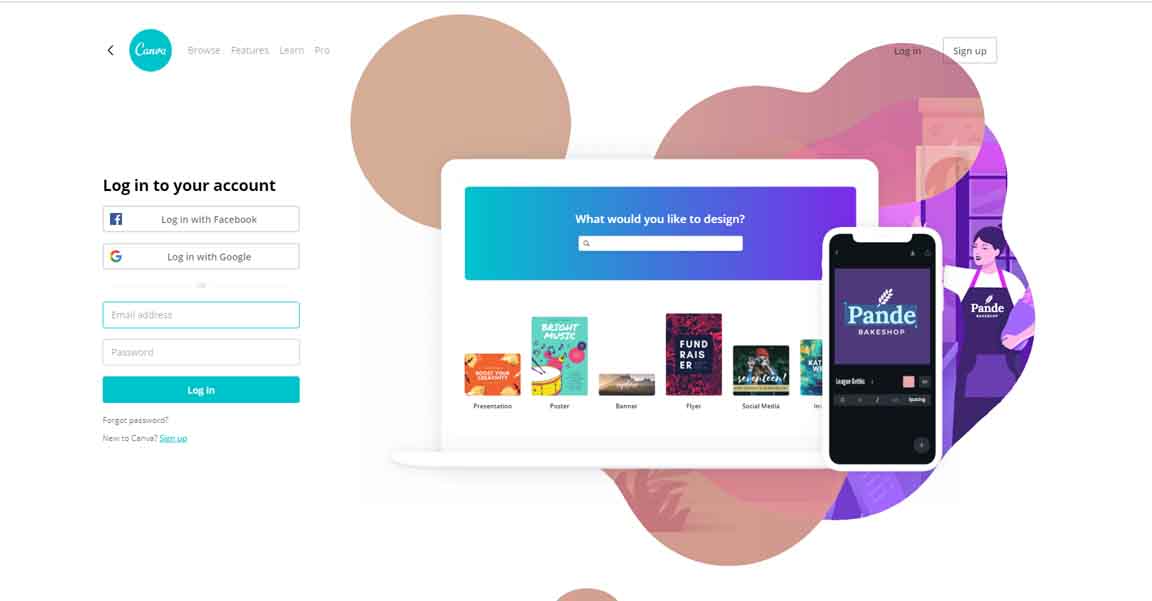 Currently, as the online business models are flourishing, we are every now and then on a lookout for a platform or a person who can create artistic and professional content to enhance our blogs or social media pages. However, there is not much choice left other than relying upon a graphic designer. If you are an amateur designer, well then there are free (or even paid) platforms that come handy and allow you to be creative. CANVA is one such web-based program that can act as a time saving design tool. It offers plenty of easy-to-use features and functionality to help you get going with creative content of any kind.
The assortment of content that you can create at Canva is endless. Let us learn more about this online tool!
What is Canva?
Canva is a one-stop shop that allows users to opt from hundreds of professionally designed layouts, themes, and graphics to create their own designs from scratch. To support your visual projects, Canva offers free tools that will assist you to create your own designs be it a custom-made icon for your website, or construct a business card for your sales team. However, that is not it! It can edit images, develop print media, as well as create graphs for your website or an upcoming presentation. It provides array of templates to interpret your data graphically.
You can use Canva for a variety of pre-sized image templates, documents, invitations, ads etc or define your own height and width of an image as per your requirement. In fact, it has never been this easy to design graphics for Facebook, Instagram, and Twitter or even your own blog or newsletter with this simple drag-and-drop tool, without a proper professional help. Canva is helping, especially the small-scale businesses to move past the two big obstacles while effectively implementing a content marketing campaign: "Creating appealing content" and "Creating content systematically".
Quick Guide to Get Started with Canva
Canva is simple to use graphic-design tool website once you get the gist its user-friendly interface.
Initially, you need to sign up and immediately an introductory tour will display the key features of the site and its editing tools.
First thing, you will notice is a wide range of templates available as a starting point for your social media post and other projects (It definitely serves as great time saver).
To rejuvenate a template according to your theme, brand and message, swap out fonts and images from a vast collection.
You will find templates for all kinds of projects and can be tweaked here and there for customization. In no time, you will be able to create your own layouts and design from scratch.
Create Various Content Types
The options are ample when it comes to social media management. Canva provides templates for most social media platform, blogs, and other promotional and writing mediums. It offers features to produce wireframe (blueprints), design presentations, infographics, photo shops and many more. There are plentiful fonts available that can amplify your webpage, presentation and other projects.
In addition, you can design never-ending list of projects, which you can think of including:
Brochures
Photo Collages
Social Media Icons
Pinterest Graphics
Instagram Stories and many more
Key Feature offered by Canva
Free to Use for Most Purposes: Depending upon your needs, Canva comes in both paid and free version. The free version is able to fulfil almost all needs of a news business owner or a beginner and do not restrict the use of any templates. It also allows uploading images from outside sources with an availability of 1 GB initial space for every free user as well as collaboration with up to 10 members in the free version. In case your requirement surpasses, Canva allows users to purchase professional quality images for just $1.
Hassle Free Use: Getting the images of right dimension for each social media platform can be a hassle. When it comes to right social media management, Canva can help users by featuring images that practically format themselves. From Intsagram post to picture collages and book cover, Canva covers it all in proper dimensions.
It is Alright to be Amateur: You do not require any kind of training and knowledge to get started on Canva. With its user-friendly interface, anyone can use its simple drag and drop functionality to construct aesthetically beauty and creative content for your online presence and other purposes.
Work in Collaboration: It is one of the most fascinating features of Canva where you can work in collaboration with other users. It enables you to share your file as well as you assign the power to edit it to another user. This way, you can create a powerful content for website, portal or an organization with an effective teamwork effort.
Creating a new and unique content is one of the difficult parts when it comes to effective content marketing campaign. However, with staggering number of free templates, images and resources, Canva gives you a freedom to create engaging and unique content on social media. Besides, whether you use the design created at Canva online or offline, it targets the audience in creatively efficient way and that is what marketing is all about.